Welp, had my Pelican Castaway 116 for about 2 months now. It was a great starter kayak, and got me to places I couldn't from shore. It's allowed me to catch many fish as well. But, as my confidence grew, and my yearning for new waters, I knew I had to upgrade to a better kayak. Posted up my wants on
BigWatersEdge
(SoCal kayak fishing forum), and someone from OEX Mission Bay messaged me with a used demo OK Trident 15 that he was willing to sell! Went and tried it out the very next day!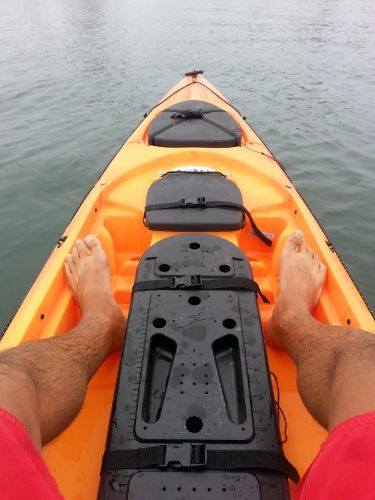 This kayak was big! At 15' 7.5", this thing was nearly 6' longer than my Castaway! I feared that it would be too long for what I needed, but once I was out on the water on this thing, my mind changed. Plus, in the long run, you can't add length. This kayak was much more stable than my previous. It also seemed much easier to paddle, going much faster. It also held its drift much better. However, being that it was a longer boat, it was much harder to turn on a dime. After testing it out for some time, I had made up my mind. Time to take this baby home!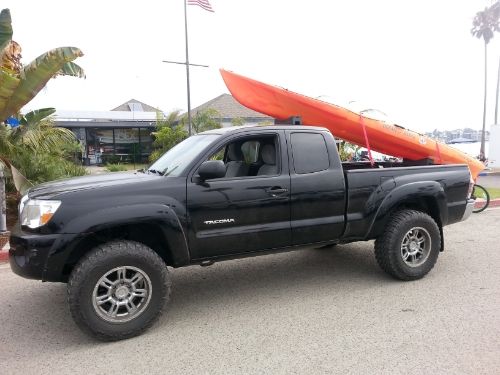 Here she is, on my truck. No racks, but this will do...
Couldn't wait to try her out, so after work I set out in Mission Bay for a little fishing session. To note, being that it's a longer boat, it was a little difficult loading and unloading by myself. But, I'm sure with more practice, I'll get a better system down.
Made my way near Ski Beach launch and paddled out. Outgoing tide with some chop from wind, and some jetskiers out, this was the perfect conditions to test its stability and handling capabilities. Didn't have anything really installed on it yet, so stopped at some places that looked fishy. The best thing I noted about this boat is that it holds its drift really well. Even with wind and chop and my relative light weight (its rated to hold 500-550lbs), I held my drift perfectly. This allowed me to be in the right spot at all times. First cast rewarded me with a nice spottie!
I like the fact that I can also sit sideways on this kayak, and still feel quite stable. Paddled around and fished a bit more for 6 spotties and a barracuda. Not bad for 1.5 hours, but my main goal was to feel out my new ride. All in all, I'm extremely satisfied with my new purchase. Put in a new paddle, and some minor upgrades (bait tank/fish finder) and I'll be set with my new kayak!