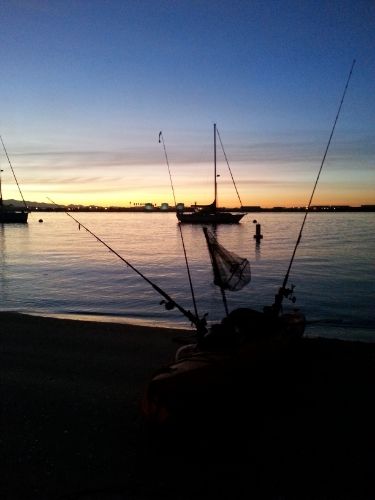 Everyone fishes for different reasons. Whether its to unwind from long days at work, a hopeful dinner feast, or for the thrills and excitement of fighting a fish. Often times we fish alone, the sweet serenity that fishing solitude has to offer. But, nothing beats being able to share that love and excitement with other people. Owning 2 kayaks in my possession has given me this opportunity to share my experiences with others. Recently, many of my friends have expressed interest in going out and fishing with me, and when one of my friends (Jason) was free over the past weekend, I offered to take him out. Just bring yourself, some water and snacks, and I'll take care of the rest.
For many first timers, I like to take them out to the bays first. Here, its much calmer and they can get used to maneuvering and being in a kayak, as well as fishing from one. So, with nice weather forecast for Saturday, I told Jason to meet me up at my place bright and early at 5:45 AM.
We arrived at Shelter Island to beautiful conditions. Flat, with no wind, we were hopeful for a fish-filled day. Tides were predicted to be incoming in the morning until about 930, then an outgoing of 5 ft until 1630. The plan was to loop around the inside of the bay, so that we wouldn't be stuck paddling back in against the current (as I've been stuck doing this, against a headwind and it was not fun...).
Awesome sunrise with the San Diego skyline in the backdrop
Tackle of choice for the day was the usual: assorted colors of 5" big hammers with 3/4 oz. leadheads, dropshotted super fluke, 3-way swivel bait drifter, and of course the sabiki. Unfortunately, it was a sloooow day. Water temp was up, and my usual places just seemed empty. I was able to pound out a few assorted bass, and 3 short hali's, and fortunately I was able to get Jason on some fish, but nothing like I was hoping.
The usual suspects
Still, he said he had fun. Nothing beats getting out on the water, for some fishing! All in all, he's looking forward to our next outing, and hopefully we'll find the fish. Until then, looks like I'll be taking out another friend this weekend! Sharing my enjoyment with others is what I enjoy doing, and hopefully teaching safety and conservation in between. It's fortunate that we fisherman can do this anytime we want, but always a pleasure to share the love with others.