If you hadn't seen or heard, there was a really good bite going on for YT in the early part of August. I made 2 trips during that time, and got lucky to say the least!
The first day I launched before sunrise. Picked up some nice greenies, about 8 of them and started my troll at the NW corner. Dogs seemed to be out in force that day, actually they seemed to only be following me, and stole every bit of bait I had in my live well. With no bait and the time reading past noon, I debated on either staying out or just heading in defeated, again. But, I decided to stick it out, and made a little more bait.
This time, made a bunch of spanish macks in the live well. Restarted my trolling as I made my way back to the launch. At this time, there was no one else around. I guess no one else was having any luck, but I was determined to finally hook one. Kept paddling along, until my bait was getting nervous. Took the rod out of the holder, and thumbed the spool as I slowly counted down, and then flipped the reel in gear. Limp goes the line, as I retrieve back my naked hook. Made a big u-turn and sent out another mack. Same thing happens again right around the same spot! Frustrated, I made another u-turn and circled back. Let out another spanish, and began my paddle back to the spot. Nothing hit this time, until maybe 20 yards past my previous spots. Again, thumbed the spool, let it take much more line than I needed to, and flipped it into gear. BAM, fish on!
This guy felt like a brute! Well, this was definitely the biggest fish I've hooked into as of late, and it towed me around a good bit. Last time this happened I got kelped, so I was determined to bring this one to color. Had my drag set previously and horsed it in. After a couple missed gaffed attempts, I got her! Bled it and called it a day.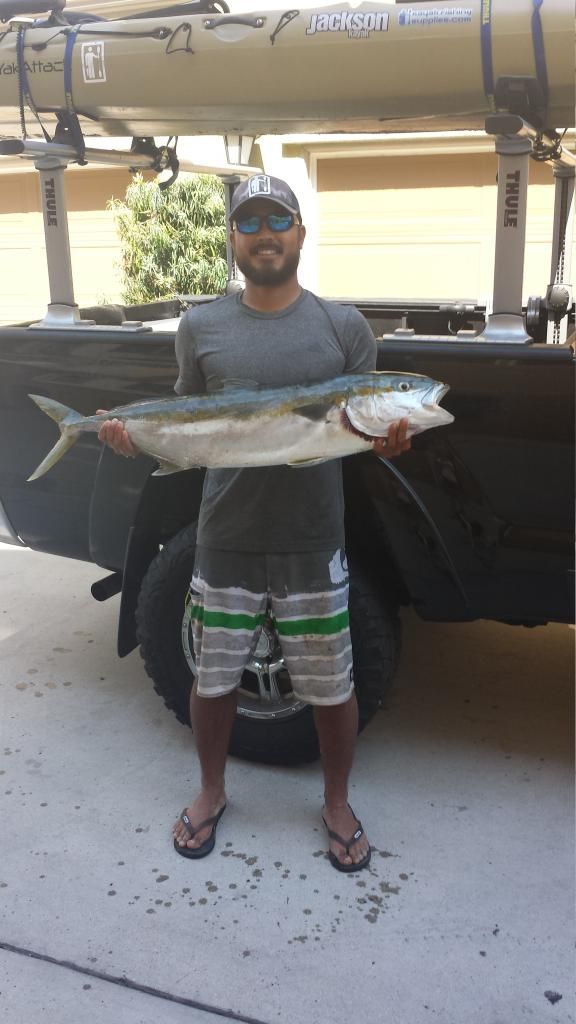 Went 22.8#, and my first yellowtail!
Next outing, I had a late start. Paddled out at 7, made some bait (all spanish macks for me) and at the spot around 800. Trolled for maybe 20 minutes and my baits getting nervous. Let it take a bit, and flipped the reel into gear. Limp again. Instead of busting a U, I threw the surface iron in the direction of my bait. After a couple cranks, line goes heavy, and I've got a biter! Reeled it in and up comes a nice yellow! Sweet, first yellow of the day and on the surface iron! At this time, I'm now seeing a school of about 50 yellows just cruising under my kayak. I'm furiously throwing the iron again and again, but no takers this time.
I set out another bait, and begin the slow troll around the vicinity. Decide to check if my baits still alive, and start reeling it in. Then it gets hit, and starts peeling line! sweet! Fought it to the yak, and gaffed into it. 2nd yellow of the day, and it wasn't even 9 yet! Decided to call it a day, and back at home by 10.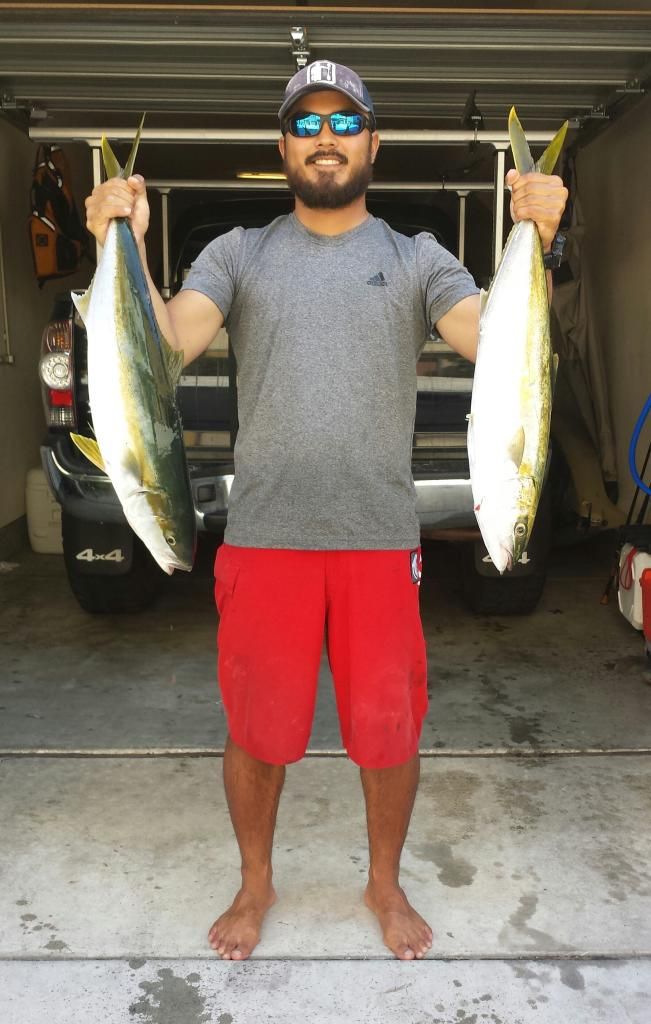 Its been quite an exciting bite, and hope this trend continues! So get out there, and get bit!