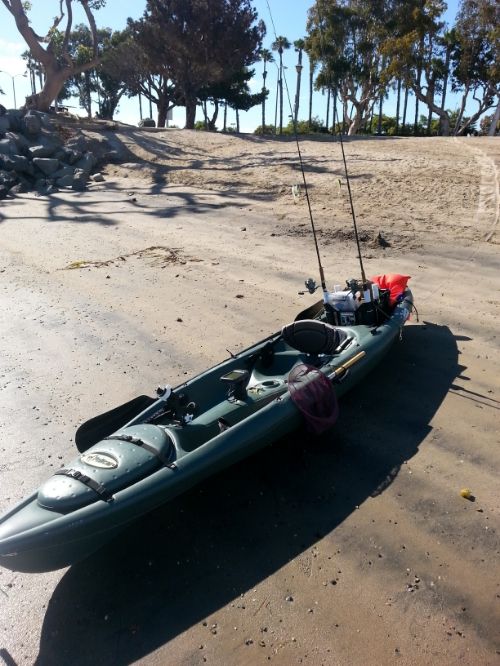 I do 90% of my fishing from shore. I've walked miles and miles of sand and rock, just to get to my spots and do some fishing. It's always a treat to fish from someones boat, or rent a skiff to do some "new" fishing, and hitting new spots that are just not possible to reach while shore fishing. That's why I've been in the market for a boat for quite a while. However, without a true "garage" or storage space, it's been extremely difficult to justify buying a boat at this time. So, I've been tossing around the idea of owning a kayak or a tube.
Both a kayak and a tube have their pros and cons. While one may take less effort in getting somewhere, another may allow for tighter space fishing. It wasn't until I saw a deal on craiglist for a kayak selling for less than $300 that I took the plunge and purchased my first kayak!
I spent a great deal of time (and some extra money), to outfit my new kayak with a few upgrades. (Will update with photos) I've added an anchor trolley, to help with boat positioning on windy or strong current days, I've built and added a crate rode holder, I've also bought a new seat, with higher back support, and I've also put in a fancy fish finder. I've got to say, this is probably the most complete fishing tool, aside from an actual fishing boat, that I've used! Comfortable, with all the storage you'd need, it gets me to the fish, and allows me to catch those fish! Here are some of my catches of my recent outings with my new kayak.
Some LMB in our local lakes!
SD Bay and Mission Bay! Hali/Corvina/grumps!
I'm extremely happy with my purchase! I've read some poor reviews on the Pelican Castway 116 DLX, but with all the upgrades I've done (homemade btw), I couldn't be any happier. So far I've logged more than 30+ SBB, a couple halis (I think I caught a legal as well, reminder bring put a tape measure sticker on the yak), a couple corvina, mackerel, and few LMB in just a few outings.
Owning a kayak has opened a whole new world of fishing possibilities for me, and I can't wait to explore further!